About the Society
The society started out with a group of local enthusiasts who had a keen interest in their local history. After several meetings the Old Kilnenor Historical Society was officially formed in March 2015 in Ballyfad Hall.
The name Old Kilnenor Historical Society was adopted, as it is believed Kilnenor is one of the oldest parts of the Parish, which may date back to a 13th century Franciscan Abbey.
One of the aims of the Society is to encompass the North Wexford and South Wicklow areas as no one location can tell the full story of our rich local history.
For more information please check out www.oldkilnenor.com or local newsletters and newspapers for details of upcoming meetings, events, outings and talks.
Membership
Anyone that would like to become a member please contact the Society or attend the next meeting. Membership for the year is €20. New members are always welcome.
1916 Commemoration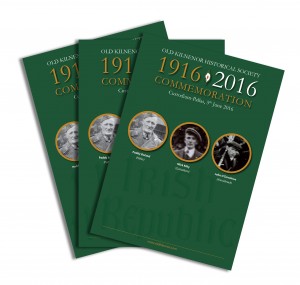 The Society held a 1916 Ceremony to commemorate local involvement in the Rising for the centenary celebrations. Especially remembered were Paddy Boland, Mick Kilty and John O'Donohoe. After a special dedicated mass in Sts Peter & Paul's Church Kilanerin, a procession, led by the Parade Commander Sgt Major William Gilbert and the UN Blue Caps and the ONE (Óglaigh Náisiúnta Na hÉireann), left Mick Kilty's old homestead and made its way to the memorial which was the entrance to where Paddy Boland's home once stood, followed by the unveiling of the memorial seat, a blessing, wreath laying and raising of the flag.
Old Kilnenor Historical Society would like to sincerely thank all those who gave their time to make the Commemoration possible.
A special 1916 Commemoration booklet and a DVD of the mass and ceremony is now available, if you would like to reserve a copy please contact the Society. Cost of the DVD is €10.
Rewind <<
Copies of Canon deVal talk on Seamus Doyle (Buckstown) and the 1916 Rising are available in CD and DVD format at €3 each. Also available are audio CD of Mr & Mrs Rawson Talk on Coolfancy and related history, €3 each. To get a copy please contact Damian on 085 7753 772.
Research Sources:
National Folklore Collection of Ireland
dúchas.ie
is a project to digitise the National Folklore Collection of Ireland, one of the largest folklore collections in the world. Material from 26 counties in the Schools' Collection is available
here
now. New material is being added on a phased basis.
Catholic Parish Registers on NLI
1911 Census – List of townlands under Civil parish of Limerick
www.census.nationalarchives.ie/pages/1911/Wexford/Limerick
Townlands of Wexford
www.townlands.ie/wexford
Family search
www.familysearch.org
Ask About Ireland – Griffith's Valuation (1847-1864)
www.askaboutireland.ie/griffith-valuation
Tithe Applotment Books (1823-1837)
http://titheapplotmentbooks.nationalarchives.ie
A Diary of an American by William Henry Hurlbert
Croghan/Coolgreany evictions
www.gutenberg.org/files/14511/14511-h/14511-h.htm
OSI maps
Includes the Historic 6″ and 25″ maps
http://maps.osi.ie/publicviewer/#V1,591271,743300,0,10
Down Survey – William Petty Maps
Taken in the years 1656-1658, the Down Survey of Ireland is the first ever detailed land survey on a national scale anywhere in the world. The survey sought to measure all the land to be forfeited by the Catholic Irish in order to facilitate its redistribution to Merchant Adventurers and English soldiers.
http://downsurvey.tcd.ie/
If you have any other links or suggestions that may help others in their search please contact the Secretary Damian Nash on 085 7753772 or email info@oldkilnenor.com
Committee
Chairperson: Fr. D Berney
Secretary: Mary Fortune (087 769 9742)
Treasurer: Bernadette Cullen
General Committee: John Boland, Dan Kennedy, Michael Forde, John J Nash, Martina Osborne, John Kavanagh, Fionntán Ó Súilleabháin, Ted Fanning, Ed Keyes