Welcome to the 7th Annual Kilanerin.com Poetry Competition. The competition is open to the 6th class students from the three parish schools, Kilanerin, Ballyfad and Ballythomas. This year 24 students participated in the competition. The judge this year was Thomas Clare.
And the winners are…
Congratulations to the joint 2017 winners Roisín Hughes for her poem My Imaginary Friend and to Faith O'Connor for her poem The Homeless Family, and to the runner ups Kellie O'Neill, Saoirse McDonald and Cliona McCarthy.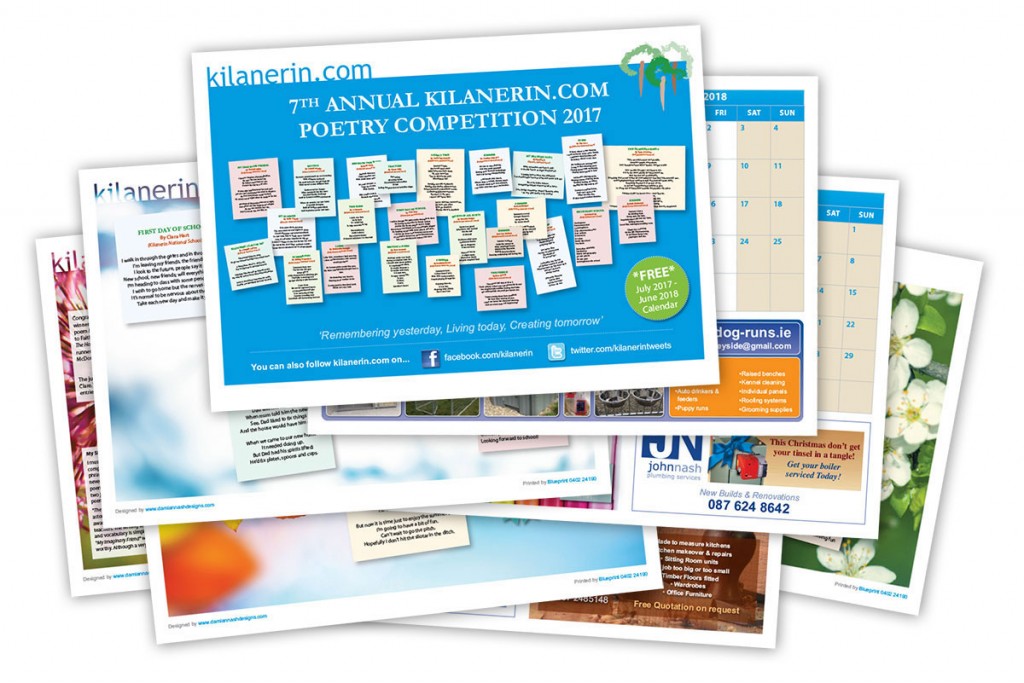 If you would like a free printed version of the calendar, it is available in the community office and other places locally, or else please contact us and we can arrange for you to get a copy.
My Six Pence – Thomas Clare
I must admit to being amazed at the standard of poetry in this years competition, I've laughed, cried and have even learned a new phrase "brain fart!" I've been suffering from these for many years but never knew what to call them. I found it very tough to separate two poems in particular so thanks to Damian we have decided to have two joint winners. In the interest of fairness I was only given the poems and school name, not the authors name.
"The Homeless Family" written by a Ballyfad student really astonished me! For a child so young in years to have empathy and awareness for others in trouble is a real credit to her parents and teachers. The writing technique and portrayal of emotion in phrases and vocabulary is simply astounding, a worthy winner, however, "My Imaginary Friend" written by a Ballythomas student was equally worthy. Although a very different piece of writing it is a truly fantastic piece of work. It takes a terrific creative mind to invent an imaginary creature and describe him is detail that brings him to life. If the writer is good at illustrations it would make a super children's bedtime story! Two very worthy winners, both gifted and creative authors!
I really enjoyed all the poems and a diverse selection of work it was. I must congratulate Damian on his continued dedication towards the project. More importantly, I urge the children involved to keep writing, even if it is only a journal. It is an amazing way of expressing yourself and problem solving. It will often astound you what you can create out of a blank page. Thank you for asking me to be a judge for a second time and I congratulate all our young authors once more.
About the Judge
Thomas is a Coolgreany native and has been writing for many years. He writes poetry, short stories, articles and plays. Thomas has found most success to date with his playwriting, with five plays brought to production by Coolgreany Drama, Kilmuckridge Drama, Cowslip Productions and Shanachie. He has had one professional production "The Deal" with Aisling O'Neill of Fair City playing the lead role which toured many venues in Co. Wexford and Dublin. Thomas takes most pride in his involvement in the monthly issue of "The Croghan Word" which ran for six and a half years and featured many of his short stories and articles. He was also a member of "The Snug at 730" writing group who published a book of work "Short Stories & Long Lies" and was launched by the Minister of Arts and Kerry footballer Jimmy Deenihan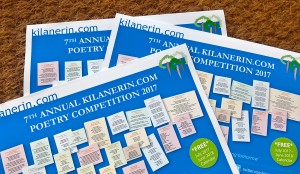 Thanks
Kilanerin.com would like to thank Thomas Clare for his time in judging the competition. Thanks to all the advertising sponsors and the Kilanerin-Ballyfad Community Development Association who helped to get this wonderful calendar booklet printed. A finally thanks to all the 6th class students and their teachers for taking the time to submit their entries, without them this annual competition would not be possible or the success that it is.