Welcome to the 8th Annual Kilanerin.com Poetry Competition. The competition is open to the 6th class students from the three parish schools, Kilanerin, Ballyfad and Ballythomas. This year 15 students participated in the competition. The judge this year was Bernie Walsh of the Lennon Centre, Annagh.
And the winners are…
Congratulations to the 2018 winner Riadh Murphy for her poem School's Out, Sun's Out! and to the runner ups Tom Boland and Padraig Jones.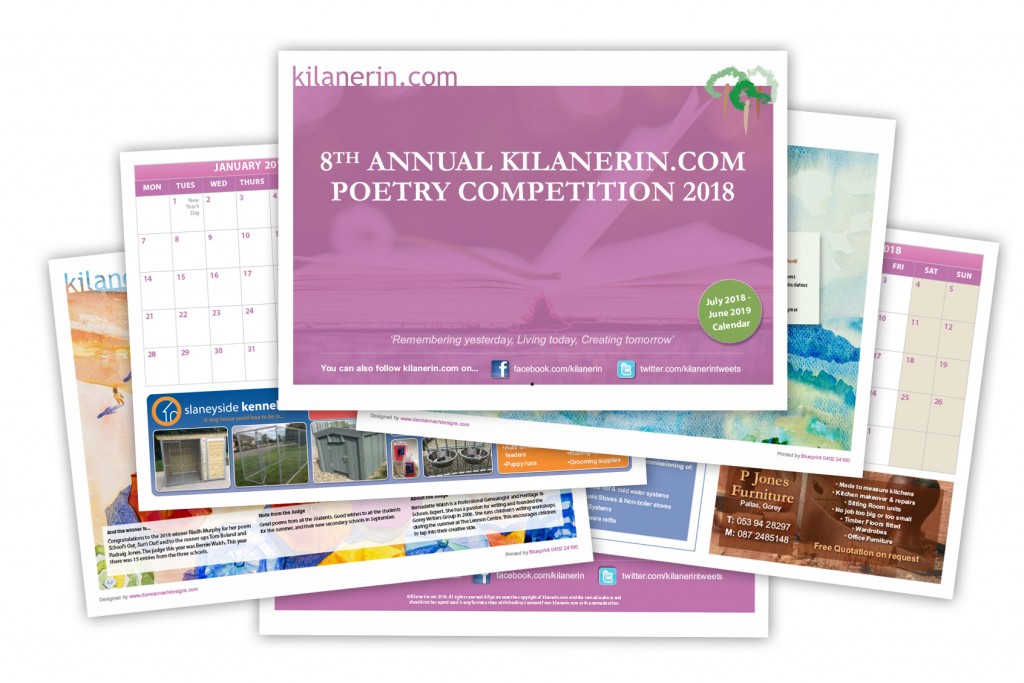 If you would like a free printed version of the calendar please contact us and we can arrange for you to get a copy.
About the Judge
Bernadette Walsh is a Professional Genealogist and Heritage in Schools Expert. She has a passion for writing and founded the Gorey Writers Group in 2006. She runs children's writing workshops during the summer at The Lennon Centre. This encourages children to tap into their creative side.
Thanks
Kilanerin.com would like to thank Bernie Walsh for her time in judging the competition. Thanks to all the advertising sponsors and the Kilanerin-Ballyfad Community Development Association who helped to get this wonderful calendar booklet printed. A finally thanks to all the 6th class students and their teachers for taking the time to submit their entries, without them this annual competition would not be possible or the success that it is.